Black Diamond Historic Mine Trail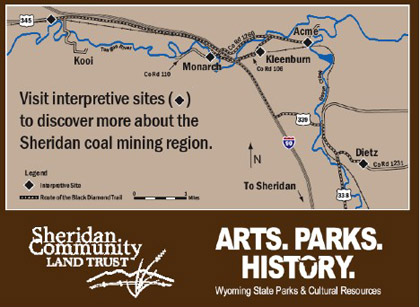 The Black Diamond Historic Mine Trail, a joint project of the Sheridan Community Land Trust and the Wyoming Historic Preservation Work Group, was dedicated on Sept. 29, 2012.  Visually appealing, highly informative interpretive signs on this trail mark the locations of each of the major coal-camps. Visit the Wyoming State Historic Preservation Office's website, linked above, for more information and a link to a map.
To follow the trail, drive north from Sheridan, Wyo., on Wyoming Highway 338, locally known as the Decker Road, approximately three miles.  After crossing Big Goose Creek and the railroad tracks, turn right on County Road 1231 and continue approximately one-half mile to the old site of Dietz.  Follow the directions on the sign to the next camp, and so on.