Fort McKinney
Fort McKinney in present Johnson County, Wyo., was an early U.S. Army post with two locations. After Lt. J. A. McKinney was killed by Cheyenne Indians on the Red Fork of Powder River in November 1876, the name of Cantonment Reno, near the Bozeman Trail crossing of Powder River, was changed to Fort McKinney. This post was occupied through the spring of 1878, and then abandoned due to insufficient local supplies of water, wood and forage.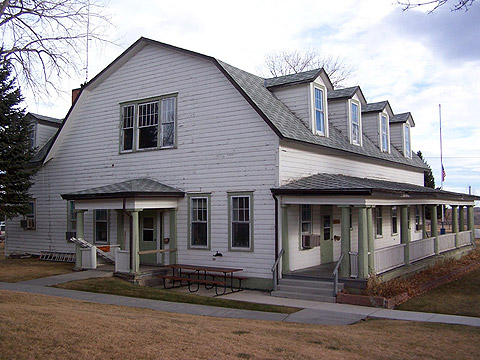 The name, however, was transferred along with the troops to a new site on a broad terrace above Clear Fork of Powder River where that stream exits from the Big Horn Mountains just west of present Buffalo, Wyo. Construction of the new Fort McKinney began in July 1878. The post at its peak consisted of barracks for seven companies of troops and at least 14 structures for officer quarters, stables, warehouses, laundress quarters, a hospital, bakery, offices, and auxiliary buildings.
Troops at Fort McKinney included as many as four companies of the black Ninth Cavalry in the 1880s. White and black troops alike were responsible for keeping the Lakota Sioux and Cheyenne from reverting to their old ways of life in a vast region, for preventing Crow and Shoshone tribes from resuming intermittent strife with tribal enemies, and for preventing Arapaho bands from becoming embroiled with settlers and other tribes while officials pondered their disposition.
The troops guarded the Rock Creek Stage Line, which provided mail, passenger and express service from Rock Creek (near present Rock River, Wyo.) on the Union Pacific all the way to Terry's Landing on the Yellowstone, in Montana Territory. And the troops built and maintained the first telegraph line into the Powder River country.
Troops from Fort McKinney were tapped to prevent more serious bloodshed in the so-called Johnson County War. In April 1892, the troops raised the siege of the T.A. Ranch south of Buffalo, where hundreds of citizens of Johnson County had surrounded a group of about 50 stockmen and detectives, who had invaded the county intent on killing men they believed to be cattle thieves.
In 1894 Fort McKinney was abandoned, and many of its buildings were dismantled. The Veterans' Home of Wyoming moved to the site in 1903. Two buildings—the hospital and dairy—from the original fort remain. A highway interpretive sign awaits visitors to the site. The Jim Gatchell Memorial Museum in Buffalo holds a collection of artifacts and photographs from the fort explaining its significance to the development of Buffalo and the surrounding region.
Resources
Bollinger, Gil A. Fort McKinney, 1877-1894: A Wyoming Frontier Post.  Buffalo, Wyo.: Jim Gatchell Memorial Museum Press, 2006.
"Fort McKinney." Wyoming State Historic Preservation Office, National Register of Historic Places. Accessed 9/25/11 at http://wyoshpo.state.wy.us/NationalRegister/Site.aspx?ID=200.
Jim Gatchell Memorial Museum. Accessed 9/17/11 at http://www.jimgatchell.com.
Murray, Robert A. Military Posts in the Powder River Country of Wyoming, 1865-1894. 1968. Reprint, Buffalo, WY: The Office, 1990.
Wyoming State Veteran's Benefits. Accessed 9/17/11 at http://www.military.com/benefits/content/veteran-state-benefits/wyoming-state-veterans-benefits.html
Illustration
The photo is by B.J. Earle, from WyomingHeritage.org.