Crow Creek Ranch
The Crow Creek or Cole Ranch Headquarters Historic District is located northwest of Cheyenne, Laramie County, Wyo., on private property. The site is listed in the National Register of Historic Places for its importance in agriculture and its significant architecture. The location of and landscape surrounding the buildings tell the story of a ranch over a long period of time—from 1879 to 1972.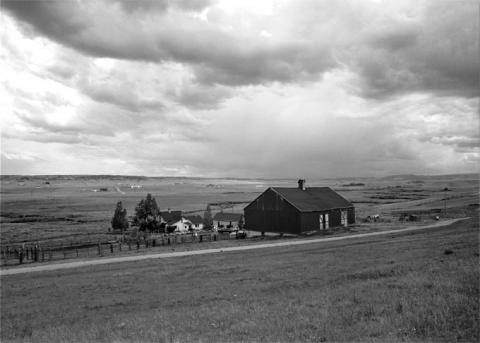 By 1904, rancher Jesse Cole had accumulated 3,680 acres—an average sized ranch in Laramie County at a time when there were approximately 570 ranches in the county, ranging in size from 1,000 to 5,000 acres. Most of the ranches near the Crow Creek/Cole Ranch operated profitably by grazing cattle on native grasses during the warmer months and alfalfa hay in the winter. Like other ranchers near Cheyenne during World War II, Cole added dairy cattle to his operation to help bring in more money.
Historic buildings on the property include a ranch house, a barn and a bunkhouse. The first building on the property, the ranch house and headquarters, was built in 1879 and continued to serve as headquarters until 1972 when the ranch was subdivided. The stone used to construct this building has been covered and stabilized with stucco. The two-story barn is built into the slope of the land. The first story consists of a stone basement. The wood-frame upper level is accessed through large doors that open at ground level. The lower level is open to the yard on the opposite side. This structure is unique in the way it was constructed to take advantage of the setting to protect it from the harsh winter. The bunkhouse was built around 1880 of stone similar to the stone used for the house. The stone on the bunkhouse is still exposed and has historic markings—initials, apparently, and an indecipherable date.
A fenced corral was added in 1950. An outhouse, root cellar and the Gilchrist No. 1 irrigation ditch complete the landscape, according to Betsy Bradley, author of the document nominating the site for the National Register of Historic Places. The property also includes the hay meadow, grazing land and the bluff with more grazing land at an elevation higher than the main buildings.
More history about ­­­the buildings found in this district, the Gilchrist and Cole families, and general information about barns and livestock raising may be found in the nomination of the site for the National Register of Historic Places. Nominations can be obtained online by searching the following site: http://wyoshpo.state.wy.us/NationalRegister/Search.aspx, or by contacting the Wyoming State Historic Preservation Office at (307) 777-7697.
Resources
Bradley, Betsy. "The Crow Creek/Cole Ranch Headquarters Historic District National Register of Historic Places Nomination Form," Laramie County file, Wyoming State Historic Preservation Office, Cheyenne, Wyo. January 12, 2009
Illustration