Colby Mammoth Site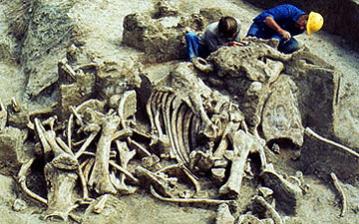 During the routine construction of a stock pond in 1962 near Worland, Wyo., Donald Colby uncovered a Clovis projectile point. In so doing, he found some of the earliest known evidence of human activity in Wyoming, dating to more than 11,000 years ago. Mammoth remains were discovered at the site as early as 1907, but beginning in 1973, a team of archaeologists led by Wyoming State Archaeologist George Frison, began investigating Colby's find.
Frison's team found a total of 463 bones concentrated in two piles in a prehistoric arroyo, along with several stone and bone artifacts. Among the bones were the remains of at least seven mammoths. Although some of the bones were disturbed, Frison and other researchers believe that the bone piles were the remains of meat caches. This find provides a unique glimpse into the life of the first hunters and gatherers of Wyoming.
Resources
Washakie Museum and Cultural Center. "Permanent Exhibits," accessed 9/9/11 at http://www.washakiemuseum.org
Worland-Ten Sleep Chamber of Commerce. "To Do and See: Colby Mammoth Site," accessed 9/9/11 at http://www.worlandchamber.com/to_do_and_see.htm
Frison, George C. and Lawrence C. Todd. The Colby Mammoth Site: Taphonomy and Archaeology of a Clovis Kill in Northern Wyoming. Albuquerque: University of New Mexico Press, 1986.
Roberts, Phil, David L. Roberts and Steven L. Roberts. Wyoming Almanac, 5th  ed., rev. Laramie: Skyline West Press, 2001, p. 45.
Illustrations
The photo of archaeologists at the Colby site is from wyomingheritage.org. Used with thanks.