Juneteenth to the Fourth of July
June 14, 2023
By Kylie McCormick, assistant editor
On June 15th, 1889, around 100 women in Cheyenne gathered in a mass meeting to demand woman suffrage be included in the Wyoming Constitution.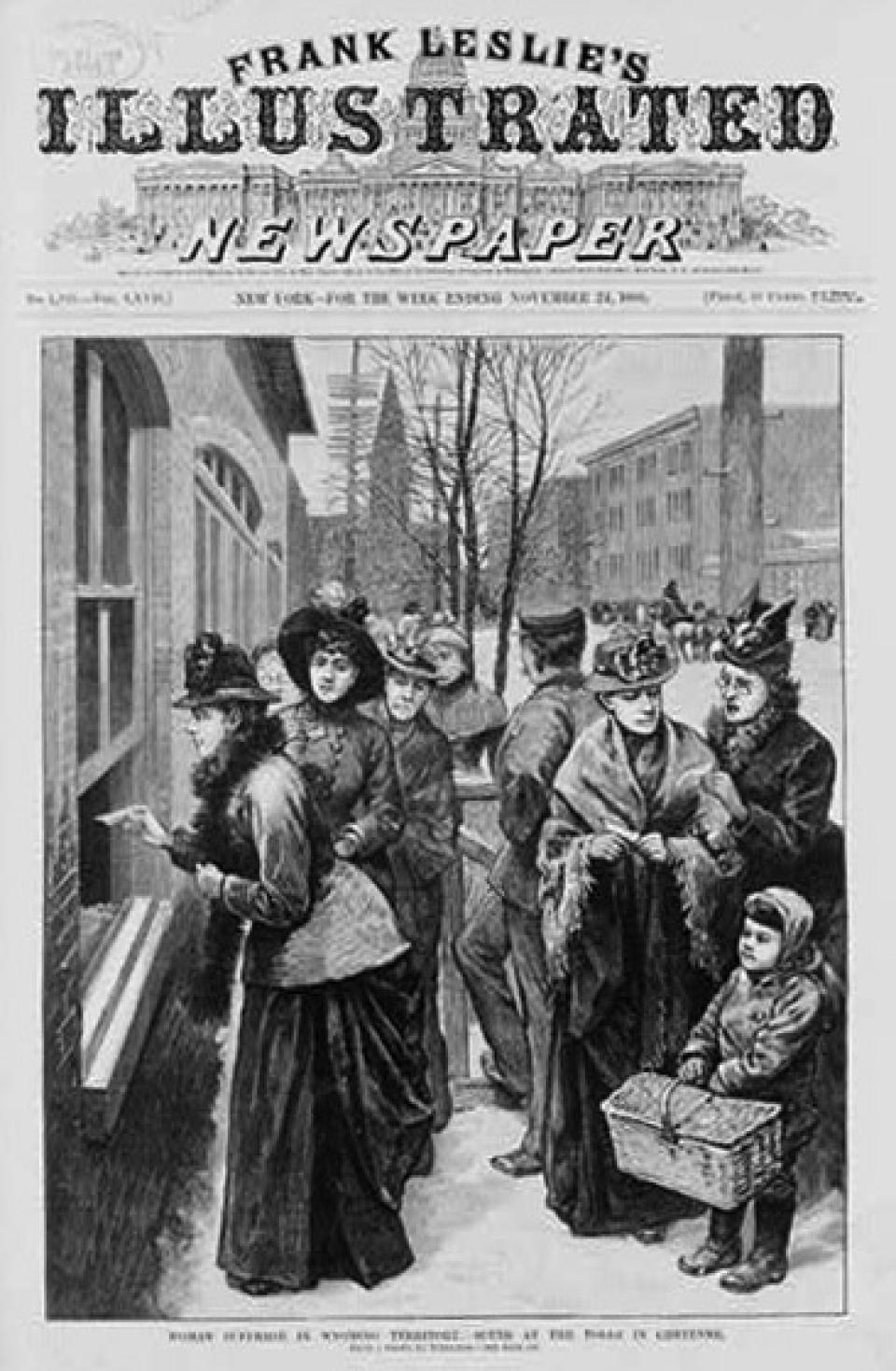 One hundred thirty-four years and two days later, on Saturday—June 17th, 2023—the Wyoming State Museum will be hosting another large gathering in Cheyenne to kick off Civic Season.
Civic Season celebrates the time between Juneteenth and the Fourth of July. This is a time to explore your story - and how it connects to U.S. history - through events, activities and resources from credible sources. Civic Season asks us to look to our past and consider our role in America's future.
To me, reading and learning about events like the women gathering in 1889 has been inspiring. Women like Amalia Post, Lizabeth Wiley and Grace Raymond Hebard have motivated me to get more involved in my community and actually show up to public meetings so my voice can be heard. Sharing their stories through public presentations, I have been able to see how that spark can travel.
The first Civic Season Festival will be taking place on the museum grounds from 3:00 - 6:00 pm. This summertime celebration explores who we are as a nation, and how each individual's story fits into the bigger picture of our collective history.
All are invited to drop in and enjoy live music from City Creek Band and Galactic Lemonz, speakers, and a lighthearted debate. Between bands, I will be briefly speaking about how my research has inspired and motivated my civic engagement. There will also be booths highlighting a dozen local and statewide civic organizations with games and activities. Stop by the Wyoming Historical Society booth to meet me and share YOUR story! We will be conducting short oral history interviews, which you will later be able to find at the Wyoming State Archives.
In the evening, I hope you will join me again for a "Slice of History," from 7-8:30 pm inside the State Museum. Grab a slice of pizza courtesy of Pizza at the Polls and learn more about the 51 years of freedom Wyoming experienced before the rest of the nation caught up. Questions of legacy and how we frame our own history will be at the forefront, while I share exciting stories of people like Irene Morse, who became a World War I hero. If you can't be there in person, my presentation will be live-streamed and available online via the Wyoming State Museum.
At the event in 1889, the women of Cheyenne wanted to protect their citizenship rights into the future. They recognized that they needed to show up and make sure that their story was heard. Presiding over the event, Amalia Post imagined a future Wyoming where women served in our state legislature and held public office. She closed her address, "may we all hope that woman will be accorded an honored place in building up and maintaining the Great State of Wyoming."
I want to extend her message to all of the citizens in Wyoming and especially our youth—may we all show up, have our voices heard, and take our place in the building up and maintaining of our state and country. And a big thank you to Melisa McChesney of the State Museum for her dedication, leadership and creativity while bringing this event to Wyoming. I hope to see you there!
Both of the Wyoming State Museum Civic Season events are generously sponsored by Wyoming Humanities.
Civic Season is developed by Made By Us, a partnership collectively led by the Smithsonian's National Museum of American History, Thomas Jefferson's Monticello, National Archives Foundation, First Americans Museum, Atlanta History Center, Senator John Heinz History Center, New-York Historical Society, and Charles H. Wright Museum of African American History.
These events are FREE for all ages. Learn more and save your spot wyomuseum.wyo.gov/civicseason. You may also register by phone at 307-630-2573.
The Wyoming State Museum is located in the Barrett Building, 2301 Central Ave., in Cheyenne. Please call 307-630-2573 for more information.
Read: 
Amalia Post, Defender Of Women's Rights 
"It Can Be Done:" Mayor Lizabeth Wiley And The Kkk  
Grace Raymond Hebard: Shaping Wyoming's Past