The Girl Guards and Statehood
April 26, 2023
The Girl Guards of Wyoming: The Lost Women's Militia, by Daniel J. Lyon. Charleston, S.C.: The History Press, 2019. 127 pages, $21.99.
Image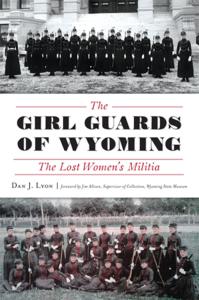 Among all the celebrations, ceremonies, speeches, anxieties and hopes around the time Wyoming was becoming a state, Cheyenne newspapers reported a unique series of events, now largely forgotten, that hint at how people felt about gender roles in a fast-changing time. For 10 months, two new companies of women's militia wowed audiences with their snappy uniforms and precision drill routines. The newpapers called them "girl guards" and, sometimes, "amazons."
In 1869, Wyoming's became the first government to give women unrestricted voting rights. Now, 20 years later, things were happening fast. In September 1889, a convention in Cheyenne drafted a state constitution that continued voting rights for women. Delegates voted 30-12 in favor of the draft; only one delegate spoke in opposition to votes for women. In November, voters approved the document by better than three to one.
Resistance was stronger in the U.S. House of Representatives. Democrats knew Wyoming was a Republican-leaning place. But, also knowing they could not oppose statehood on purely partisan grounds, they attacked Wyoming instead for allowing women to vote. It almost worked. In March 1890, the House vote for statehood was very close, 139-127. Three months later, the Senate went along by a more comfortable 29-18. Statehood became official July 19, 1890.
While all this was going on, Dan Lyon tells us in The Girl Guards of Wyoming, two teams of young women, mostly teenagers, began drilling and practicing. They used wooden rifles; they practiced drill patterns out of a manual from the Knights of Pythias, and their girl captains carried Knights-of-Pythias-style swords.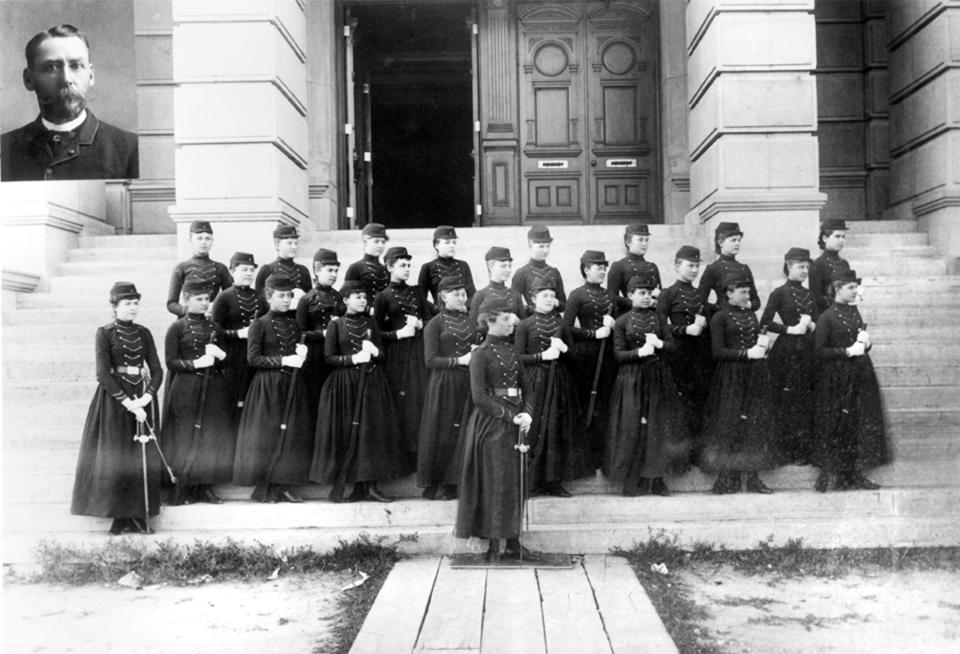 First organized was Company K, as it was called, under the leadership of Col. Frank Stitzer, a Civil War combat veteran who had also worked as a paper hanger and tax collector, and Capt. Emma O'Brien, a recent graduate of the Cheyenne schools. Company K gave its first performance at the Merchant Carnival—something like a pre-Christmas bazaar—on Oct. 22, 1889; she presented him with an ebony cane with an inscribed gold head. On Oct. 30, Company K performed at a statehood rally. One newspaper suggested sending the girls to Washington, "[a]s a good, graceful and lovely lobbyist" to persuade congressmen and senators that "the women of Wyoming at least were deserving of statehood."
A rival, Company H, was formed in April 1890, and they, too, received high praise in the papers. Both companies had about two dozen members. The papers devoted considerable ink to descriptions of their uniforms. These went through several evolutions until, by the time of big statehood celebrations, they were similar, with military kepis on the marchers' heads, close-fitting, double-breasted tops and full, dark skirts. Company K's uniforms were of gray wool; Company H uniforms were black.
Cheyenne outdid itself for huge statehood celebrations on July 23, the day the suffragist orator Teresa Jenkins gave her famous speech. There were more speeches, barbecues—and parades. Companies H and K gave their peak performances.
And that was it. Both companies appear to have disbanded after that. See Lyon's book for lots of detail on the two companies' performances, uniforms and drill tactics, along with brief bios of each of the participants. It makes for unlikely insights into a remarkable time.
Read To 'Hold a More Brilliant Torch:' Suffragist and Orator Theresa Jenkins
Read Wyoming Becomes a State: The Constitutional Convention and Statehood Debates of 1889 and 1890 and Their Aftermath