The Fate of an Outlaw's Body
August 17, 2022
By Rebecca Hein  
Big Nose George: His Troublesome Trail, by Mark E. Miller, with a foreword by former WyoHistory.org Assistant Editor Lori Van Pelt. High Plains Press, 2022, 136 pages. $19.95 paperback.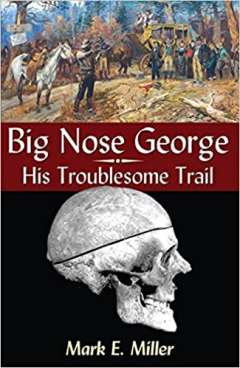 Possibly the most tantalizing sentence in this tale of murder, lynching and postmortem gruesomeness is, "If only each murderer had kept his mouth shut" nobody would have connected the outlaws with their crimes. Outlaw groups were, in the late 19th century West, "[A] fluid and dynamic mix of miscreants and evildoers, never staying together very long, and certainly not holding powerful allegiances among group members."
Nonetheless, in 1878 George Parott recruited his Powder River gang to rob the eastbound Union Pacific train in Carbon County, Wyoming Territory. Outlaws had learned from a recent issue of the Laramie Daily Sentinel that pickings were much better on the eastbound train than the westbound.
From this fast-paced, well-written narrative, we learn things that never cross our minds in the age of the automobile. For example, a loose, riderless horse does not parallel a river for miles, but stops to drink. Good trackers knew this, and it helped them know when they were following an outlaw.
Parott and members of his gang killed two lawmen who had pursued them for tampering with railroad tracks. Eventually Parott was arrested, then lynched: We learn the difference between a hangman's noose and a lasso.
The career of Parott's body has haunted Wyoming ever since Gov. John Osborne had a pair of shoes made out of Parott's skin. If the shoes were not at the Carbon County Museum in Rawlins, Wyo., it would be almost impossible to believe anything that macabre.
Criminals' corpses had long been treated with contempt in the U.S. and, for centuries past, in the Old World. But the story of George Parott is perhaps more gripping than the average account of the fate of a criminal's remains.
An especially useful feature of this book is the Cast of Characters chapter—an annotated list of criminals, lawmen and others important to the story. The author is the great-grandson of Carbon County Sheriff Isaac C. (Ike) Miller, Carbon County sheriff in 1880 when George Parott was in jail in Rawlins.