White Mountain Petroglyphs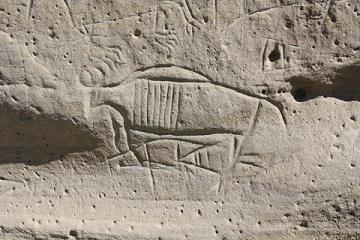 Hundreds of carved figures dot the sandstone cliffs at the White Mountain Petroglyphs site in Wyoming's Red Desert north of Rock Springs. Etched into the sandstone bedrock of the Ecocene Bridger formation some 1,000 to 200 years ago, several figures appear to portray bison and elk hunts while others depict geometric forms or tiny footprints. Handprints are scooped into the rock as well, providing visitors with a compelling connection to those who used the site long ago.
The rock face also tells of contact with European cultures. Many figures portray horses, and one warrior figure is shown brandishing a sword. Members of the Shoshone, Arapaho, and Ute tribes hold this site to be sacred. Some believe this was a birthing place for Plains and Great Basin tribes.  Visitors should view the petroglyphs with respect.  The rock face should not be touched.
Resources
Illustration