Rulon Gardner: From Star Valley to International Stardom
It sounds like a script the Rocky IV writers came up with: An invincible Goliath from Siberia nicknamed "The Experiment" arrives at the Olympic Village packing a 13-year winning streak. The only obstacle in the way of a fourth consecutive gold medal for the unbeatable champion, who had not even given up a single point in over 10 years of high-level international competition, is an aw-shucks farm boy from rural Wyoming.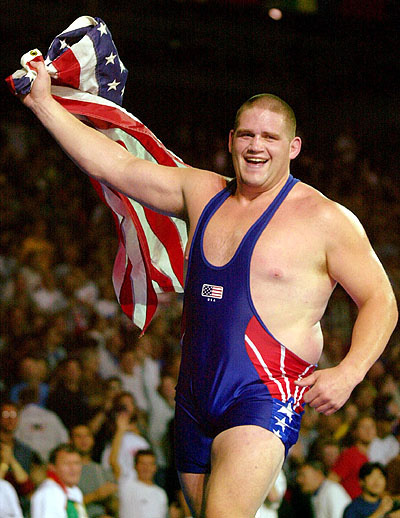 On Sept. 27, 2000, at the Summer Olympics in Sydney, Australia, one of the most unlikely plots in sports history turned into compelling television as Afton's Rulon Gardner delivered a miracle on the mat by defeating Aleksandr Karelin in the super-heavyweight (130 kilogram weight class) Greco-Roman wrestling gold medal match for the ages.
After the referee raised Gardner's arm as victor, the modern-day "Alexander the Great" walked off the mat for good, immediately retiring from the sport he had controlled for 15 years. Near the end of the legendary clash of titans, the chiseled Karelin stepped away from Gardner's fleshy grasp and bowed to the new champion, who was about to become an overnight American celebrity.
"To be realistic, I didn't think I could actually beat him," Gardner, age 29 at the time, told the media afterward. "The gold medal was so far away from what I thought I could do in my life. You say, 'Yeah, I can beat him.' But so many people in so many hundreds of matches have thought that, then they go out and he basically crushes them."
Karelin tried to break Gardner's will quickly. The 6-foot-3, 286-pound wrestler attempted to throw the underdog repeatedly, as Karelin had done during a 5-0 victory over Gardner in their only previous meeting three years earlier. In that first match, Karelin slammed Gardner on his face three times and even flipped him feet-first over his head in a violent maneuver that had Gardner's wife, Stacy, fearing for her husband's life.
This time Gardner stayed upright, and the two massive men danced chest-to-chest through a scoreless three-minute first period. In the second period, Karelin quickly put his prey in a lock that opponents rarely escaped from. But Gardner did escape—to score the first point Karelin had yielded in over a decade.
"He had a great lock on me, and another three or four inches I would have let it slip," Gardner recalled in an ESPN.com story four years later. "But I always wrestle kind of unorthodox, and our feet got tangled and I got under him. Maybe it confused him. But I got the point."
Gardner also had something in his eyes Karelin was not expecting: confidence. With the crowd now engaged and rooting the long shot on with "USA!" chants, Gardner fought off Karelin's aggressive attacks in the second period, and in overtime to capture the gold and the hearts of spectators around the world. Not sure how to react to his amazing triumph, Gardner did a cartwheel, a somersault and then a victory lap wrapped in the Stars & Stripes.
Star Valley to International Stardom
Gardner was born on Aug. 16, 1971, in Afton, in western Wyoming's Star Valley near the Idaho border. He is the youngest of nine children who were raised by Reed and Virginia Gardner on a dairy farm where there was plenty of work--from milking cows to feeding calves to chopping grain--to keep everyone in the large Mormon family busy. The family traces its roots to the earliest settlers of Star Valley.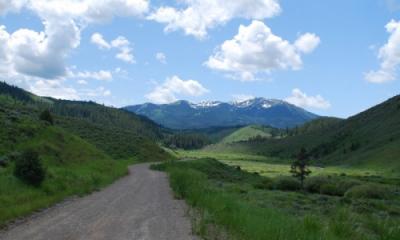 Rulon wrestled his brother Reynold to break up the monotony. However, the future Olympian did not immediately command his sport on the farm or even at Star Valley High School. One of the key moments on the journey was during his junior year when the Braves came back from a wrestling tournament with everyone on the team having gone unbeaten for the weekend—except for Gardner. There was plenty of time to do some soul-searching during a long bus ride home.
"I was razzed the whole way home," Gardner told the Elko (Nev.) Daily Free Press after conducting a wrestling clinic for kids in December 2012. "So I asked myself, 'Why am I doing this?' And I knew I was doing it because I love it."
Gardner, who was also selected for all-state in football and took second in the shot put at the state track and field championships, won the Wyoming high school heavyweight championship in 1988 when he defeated Newcastle's Jerry Stanton in the title match and in 1989 when he defeated Buffalo's Travis Studie in the title match.
That led to a scholarship at Ricks College in Rexburg, Idaho (now Brigham Young University-Idaho), where Gardner won a junior college national title. He finished his college career at the University of Nebraska, finishing fourth at the 1993 NCAA championships and departing Lincoln with a bachelor's degree in physical education and health.
"I wasn't a great wrestler in college, but I wanted to be," Gardner said. "I wanted to be a coach. I wanted to be a better teacher than a wrestler."
Gardner decided to pursue his Olympic dreams instead, but a staph infection prevented him from going to the 1996 Games in Atlanta, where Karelin barely broke a sweat in winning his third gold medal.
Four years later, Gardner was the last big man standing in Sydney.
Seeking a second chance
On a bitter cold night in February 2002, on mountain slopes above Star Valley, Gardner got separated from some snowmobiling friends and stranded his machine in deep snow. He nearly died of hypothermia after suffering in the elements for 17 hours. He had a toe amputated due to frostbite, but the ordeal did not derail his wrestling career.
At the 2004 Olympics in Athens, Greece, Gardner was back on the big stage and brought back a bronze medal. He left his wrestling shoes on the mat, signaling that it would be his final competitive match. Since 1908, the United States has won 12 Greco-Roman medals. Gardner owns two of them.
Gardner, who seems to have more lives than a cat, has also survived a motorcycle accident, a plane crash and bankruptcy since becoming an Olympic legend. After ballooning to 474 pounds, the gentle giant even appeared on television's The Biggest Loser before making a comeback attempt for the 2012 Games in London.
Ironically, Gardner's bid for a third Olympic appearance fell short because he was five pounds from making weight during the U.S. trials in April 2012. Dremiel Byers, the man Gardner trained against at the Olympic training center in Colorado Springs, Colo., suffered a disappointing loss in the 2012 quarterfinals after finally stepping out of Gardner's large shadow.
"I think (Byers) has more talent than anybody else in the world," Gardner told the Colorado Springs Gazette. "And I told him that the other day. There are not many people who can compete with him physically. But he has a tendency to go there and not execute."
Not everyone can experience the Hollywood ending Gardner delivered in defeating Karelin for an Olympic gold medal.
Resources
For Further Reading
Gardner, Rulon with Bob Schaller. Never Stop Pushing: My Life from a Wyoming Farm to the Olympic Medals Stand. New York: Carroll and Graf, 2005.
Illustrations
The photo of Gardner on his victory lap after winning a gold medal at the 2000 Summer Olympics in Sydney, Australia, is from Mormonwiki.com. Used with thanks.