Area 5: The United States During Reconstruction (1860s-1870s)
EQ: How did the Western region of the U.S. respond to challenges of Reconstruction?
Lesson Plan Developed By
WyoHistory.org
Grade Level
9-12
Content Area(s)
Social Studies
English
Learning Objective(s)
1. Students get an overview of important national events preceding the enfranchisement of Wyoming women
2. Students learn how and when women in Wyoming gained the right to vote
3. Students interpret visual images—in this case posters—issued by both supporters and opponents of women's suffrage
Standards
Click here to see a spreadsheet aligning Wyoming State Social Studies and Common Core Standards for this and other digital toolkits of Wyoming History.
We will update the standards spreadsheet as more lesson plans are developed.
Length
One 45-minute class period
Materials Required
Resource 1: Summary
Resource 2: Article
"Right Choice, Wrong Reasons: Wyoming Women Win the Right to Vote."
Resource 3: Visual image analysis tool
National Archives photo analysis page
https://commons.wikimedia.org/wiki/File:Official_program_-_Woman_suffrage_procession_March_3,_1913_-_crop.jpg
https://allthatsinteresting.com/vintage-anti-suffrage-propaganda#20.
Lesson Plan
Introduction
The exercise asks students, after reading the summary and the longer article, to analyze and compare two posters taking opposite views of the woman's suffrage question.
Plan
Pictorial images, such as drawings and photographs, have long been used to convince people of the validity of a particular viewpoint. Fill out a photo analysis page for each poster. Then write a short essay of 250-300 words. Briefly describe each poster and compare them to each other. Would they be effective? Why or why not? Do you like them? Why or why not?
Closure
Study and discussion questions:
Do you think it was fair for women to be governed by the same laws as men, when only the men made the laws?
Slightly more than 50 years passed, from 1869 when Wyoming gave women the vote, to 1920, when the 19th Amendment to the U.S. Constitution was passed and all American women could vote. Why did it take 50 years?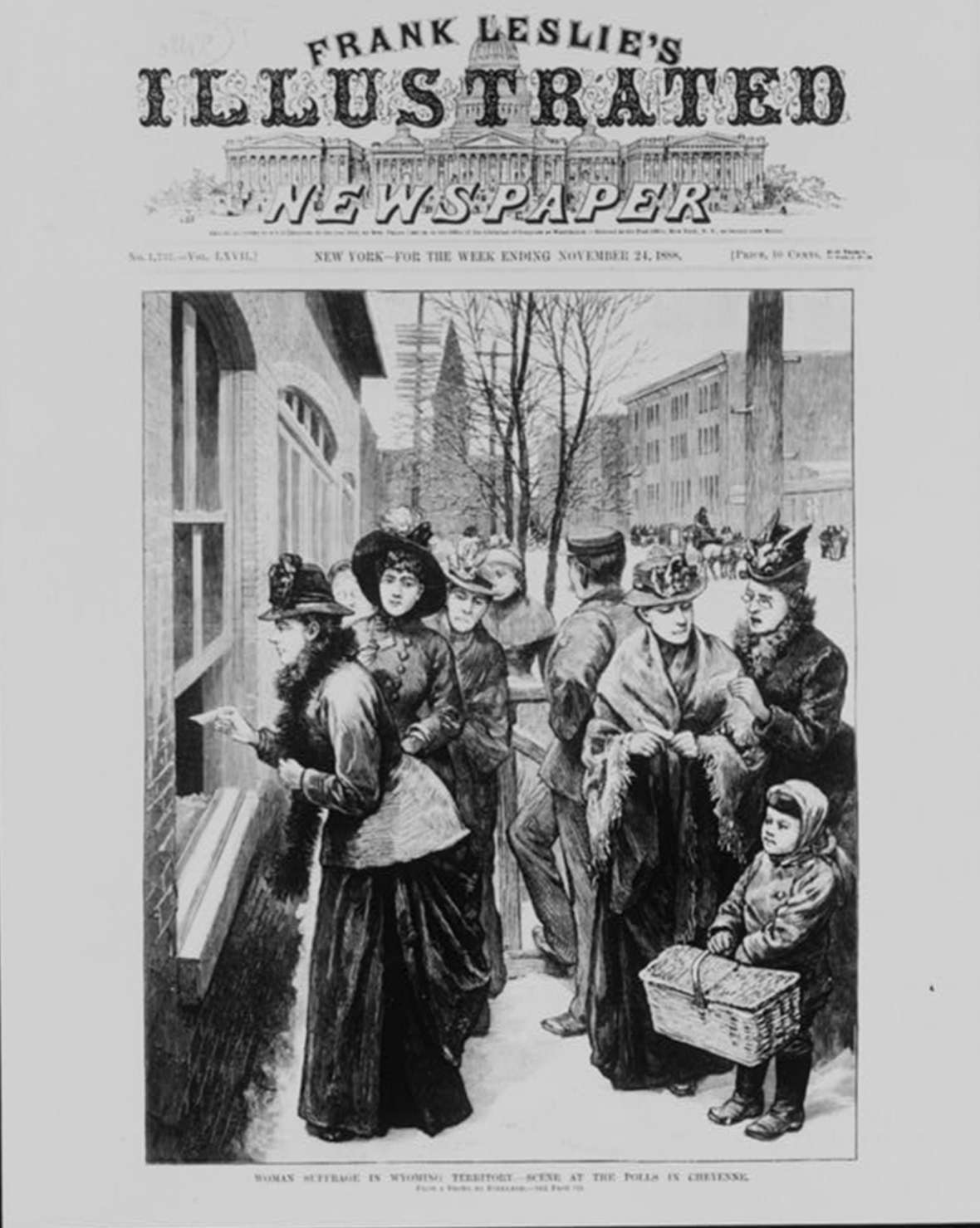 Read
Resource 1: Topic Summary
Beginning in 1848, American women in significant numbers agitated for the right to vote, or suffrage. However, no state or territory had yet granted it before the Civil War (1861-1865). After the war, Congress passed the 15th Amendment to the Constitution, giving suffrage to male African-Americans—former slaves as well as free northern black people.
Developments from 1854 through early 1869 show some growing support for women's suffrage, though none of these efforts succeeded at first. Congress defeated a few bills that would have given women the vote, as did the territorial legislatures of Washington, Nebraska and Dakota. The Dakota Territorial Legislature came within one vote of enfranchising women, in January 1869. To enfranchise means to grant the full privileges of citizenship, especially the right to vote.
Much of the area that's now Wyoming was part of Dakota Territory until Wyoming Territory was created in spring 1869. Wyoming's Territorial Legislature, elected in September of that year, convened in October. It passed a law giving female residents of the territory the right to vote. Historians have debated the reasons for this, since many people in the nation still resisted women's suffrage.
One possible reason has to do with race, as well as gender. During Reconstruction, the American frontier attracted many former slave-owners and Confederate soldiers who resented the new suffrage laws for black men. Many of these southern Democrats felt that their wives were as good as, or better than, any nonwhite man, and therefore should be allowed to vote.
About 1,000 Wyoming women may have voted in the November 1870 election. That legislature nearly repealed the suffrage law; the repeal passed both houses but was vetoed by Gov. John A. Campbell, who had signed the original suffrage bill. The House of Representatives voted to override the governor's veto, and the Council—as territorial senates were called—fell one vote short of the needed two-thirds. Since then, no serious challenges to women's suffrage in Wyoming have occurred.
Female voters in Wyoming Territory could also hold public office, and South Pass City, Wyo., resident Esther Hobart Morris was appointed Justice of the Peace in early 1870. Morris, the first woman in the U.S. to hold public office, served for eight and a half months. Women in Wyoming also began serving on juries, running for offices and otherwise entering the public arena.
Many states and countries followed Wyoming's lead in women's suffrage, but not until 1920 did all American women get the vote, with the ratification of the 19th Constitutional Amendment.
Wyoming is known as the "Equality State" for its pioneering law enfranchising women.
Resource 2: Article
The article, "Right Choice, Wrong Reasons: Wyoming Women Win the Right to Vote" offers substantial background on the topic for teachers and for students 8th grade and up. The article may be demanding for 6th and 7th graders.
Analyze and compare
Resources
For further reading
Illustrations