Water Grabbing and Water Regulation in Wyoming
July 26, 2023
By Rebecca Hein
Public Waters: Lessons from Wyoming for the American West, by Anne MacKinnon. University of New Mexico Press, Albuquerque, New Mexico, 2021, 358 pages. $29.95 paperback.
Image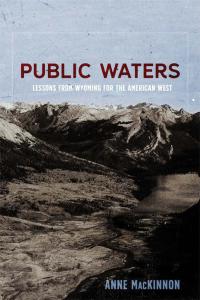 In arid, sparsely populated Wyoming, water law has evolved differently than in Colorado, California and Arizona. In her recent book on water rights in the west, Anne MacKinnon comments, "Wyoming is therefore ideal territory for documenting how western water law developed independent of the pressures of urban and industrial growth."
Fortunately for both author and reader, "[A]lmost every moment of … [Wyoming's] water management history has been meticulously documented." Her introduction guides us through a historical summary of Wyoming's settlement, population, geography, weather patterns, climate, economy, land distribution and water sources.
In Chapter One, we meet visionary Elwood Mead, Wyoming's first territorial engineer; later the first state engineer. Mead saw public ownership of water "through state supervision" of private water rights as the key to preventing the profiteering and speculation then swirling through Colorado and California.
After a detailed description of Mead's plan for the administration of Wyoming's water, MacKinnon adds, "Mead arrived in Wyoming with all these ideas, but first he had to deal with the mess at hand."
The early White settlers had been accustomed to claiming whatever water rights they chose, based on being the first to use water along a stream, for example. To them, water was private property, not subject to regulation by government or any other entity. The problem was, Mead noted, "that the virtue of self-denial had not been conspicuous on the part of claimants." Many years later, he observed, "If the amount of water claimed had existed, Wyoming would have been a lake."
Mead helped to write his plan for public ownership of Wyoming's water, administered by the state engineer, into the state constitution. In attempting to enforce the rules, Mead battled "resistance and resentment."
Charles Potter, chief justice of the Wyoming Supreme Court at the time, upheld Mead's vision at every opportunity. In addition, resistance to the chief engineer's authority declined as users realized "that if everyone's exorbitant claims for water rights were not cut down to actual use, there would be water enough for only the first few claims on the stream."
One fascinating story, early in the book, describes how Joseph M. Carey, in the late 1880s, fought against small settlers' claimed water rights on Box Elder Creek southeast of Glenrock, Wyoming. His method was "straightforward and nasty: Carey had his men go with wagons to the homestead cabins and dump everything people had into the creek. If possible, they did the job when the families were away."
The history of water rights on Crazy Woman Creek, a "crazy" story if there ever was one, "illustrates the impact of frontier Wyoming on Mead's system, rather than the other way around." In certain disputes, people didn't call in water officials, instead relying on "self-help." Sometimes matters were settled peaceably, at others, by intimidation. In a recent case—summer 2022—a landowner sold his property rather than assert his water right.
"Modern Wyoming water commissioners," MacKinnon notes, "typically still don't step in to divide up water on a creek according to priority unless someone complains about not getting water." And some people are afraid to complain.
Gripping stories of various water disputes and their resolutions bring the reader to further clarification of the practical reality of Wyoming's water laws. Could the holder of a state water permit delay using that water, but retain the water right, thus ending up with access to the water according to the date on the permit? If allowed, this would supersede other water rights with later permits.
But it wasn't allowed. The law required deadlines for when the water had to be used. Otherwise, "To allow applicants to proclaim themselves 'users' by obtaining a state water permit but doing nothing more was to allow speculators to obtain Wyoming water rights and potentially hamper the growth of self-supporting settlements."
Attempts to use water—whether successful or not—sometimes occurred more often than did meeting a deadline. This happened more than once in the Bighorn Basin, the area between the west slope of the Bighorn Mountains and Yellowstone Park. Newcomers to the basin knew nothing about the land or climate, resulting in many failed irrigation projects.
The book describes many specific water battles. Two of the most significant include the Wind River Reservation and coal bed methane.
There are several helpful features at the beginning of each chapter:  A note about the places and time covered in the chapter, along with a photo; clear maps drawn by Rachel Savage of Casper, Wyoming, showing various waterways, mountain ranges and other features relevant to the chapter's contents; a rectangle representing Wyoming, with a smaller rectangle within it, showing the region represented by each map.
Elegant writing, impeccable research and a compelling story make this book a winner.
Available online from Wind City Books in Casper, Wyo., at Amazon and other online outlets or from the publisher.
Rebecca Hein is an assistant editor of WyoHistory.org
Read Native Rights to Wind River Water
Read Order out of Chaos: Elwood Mead and Wyoming's Water Law