Profiles in Courage, Wyoming Style
March 16, 2023
By Rebecca Hein
Profiles in Courage: Standing Against the Wyoming Wind, by Rodger McDaniel. WordsWorth Publishing, Cody, Wyo., 2022, 357 pages. $24.00 paperback.
Image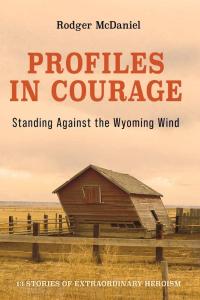 The author, a self-described "progressive Christian" and "citizen historian" (non-professional) has included eleven stories in this book of gutsy people and groups in Wyoming who have stood by their unpopular convictions. Often, they suffered for this.
We learn about politicians, private individuals and groups. Even for the reader who already knows some of these stories, the narrative is gripping. Providing substantial historical background, McDaniel traces the difficult paths of various brave and picked-on people.
One of the most compelling profiles is of Joseph C. O'Mahoney, who represented Wyoming in the U.S. Senate from from 1934 to 1952 and again from 1955 to 1961. In an extensive biographical sketch, we learn of the forces that shaped O'Mahoney into the man who forfeited a position on the Supreme Court.
Honoring private individuals, McDaniel details the struggles of Jeran Artery and Larry "Sissy" Goodwin. Artery, a Wheatland-born gay man, spent years in the closet before advocating publicly for gay rights in Wyoming. For this he endured a barrage of anti-homosexual invective.
Goodwin, a cross-dresser, was standing in his front yard in Douglas, Wyo., watering the lawn, when a passerby cursed him, kicked him in the kidneys and knocked his two front teeth out. After such attacks, Goodwin learned not to call the police, who were just as likely to abuse him. The Goodwin home was regularly vandalized. "Sissy" was a public cross-dresser all his life.
McDaniel comments, "When somebody's very existence is an affront to the dominant culture, the winds against which they must stand are not only withering but unremitting. That is especially true when the differences involve sexuality or gender."
Highlighting three groups, the people of the Wind River Reservation, the Black 14 and the detainees at the Heart Mountain Relocation Camp, the author shows how each withstood major violations of their civil rights. It's impossible to say which of these groups was the most courageous in their resolute stance against injustice.
Providing substantial background on the evolution of McCarthyism, Bircherism and Trumpism in Wyoming, McDaniel brings us right up to the present with Liz Cheney's opposition to Donald Trump. He reports death threats against Cheney, and her recent Profiles in Courage award conferred by the JFK Presidential Library.
With an unforgettable, slanting-over barn photo by Phil Roberts on the front cover and, on the back cover, "comments" by Pontius Pilate, Diogenes and Don Quixote, this book will hold the reader's interest from beginning to end.
Available from the publisher, at Amazon and at various locations throughout the state.
---
For more on WyoHistory.org from Rodger McDaniel, read