Playing Strings with a Country Star
October 13, 2021
By Rebecca Hein
I was rolling around in bed, flipping my pillow and rearranging the blankets every few minutes. Finally, my husband turned over and put his arms around me.
"Becky. Settle down." In Ellis's tone and touch I recognized the calm authority that soothed our two preschool children when they became agitated.
"That's easy for you to say," I retorted. "You're not facing potential humiliation in front of hundreds of people."
"True; that's a decision I made years ago … and so did you. Now go to sleep."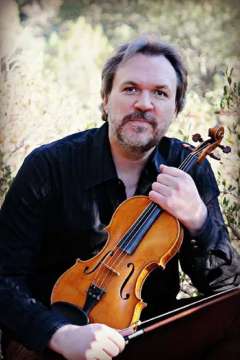 For the past few days, I'd been waking up in the morning wondering why I felt like I was going to soon face a firing squad. Then I'd remember. The last Wyoming Symphony Orchestra concert of the 1996-1997 season was coming up in about two weeks, and I was going to be playing a duo with our guest artist, Mark O'Connor. A Grammy award-winning country fiddle player, he was ascending rapidly, and was already collaborating with many world-famous classical artists such as cellist Yo-Yo Ma.
My principal cello job required me to perform whatever solo parts that were required, and when I first ran through my part for "Limerock," an old country tune in an arrangement by O'Connor and others, it seemed playable enough. Next, I listened to the recording he had provided, but I didn't recognize the piece I'd just sight-read because the tempo was insanely fast. When I discovered this, I saw the magnitude of my task.
To play "Limerock," I had to fling my left hand up, down and across the fingerboard like an Olympic gymnast performing handsprings, somersaults and cartwheels at top speed. The style was alien, and I couldn't believe the gyrations I had to master.
Most difficult of all, I had to keep up with a virtuoso who had performed the piece many times—and my fingerboard was nearly double the length of his. This meant I had to do the equivalent of running the 100 yard dash while he ran the 50, and I had to cross the finish line when he did.
It was a harrowing two weeks. In the face of mounting panic, I tried to muster as much calm and focus as I could. At the Saturday afternoon dress rehearsal, a few hours before the concert, we ran through the piece twice. I had no apparent problems, but that didn't mean I felt secure.
"Limerock" was scheduled for after intermission, right before the grand finale, O'Connor's Concerto no. 1 for Fiddle and Orchestra. During intermission, knowing I was being required to push to the outer limits of my abilities, I took no chances. Instead of relaxing and socializing with my fellow musicians, I faced my chair to the wall, opened up my part, and mentally practiced it for the entire 20 minutes.
The second half of the concert opened with a composition I can't recall the name of, but it was simple and beautiful. The orchestral accompaniment was easy. I tried to relax and settle in, but stage fright gripped me. By the time I had to stand up, arrange my chair to face the audience, place my music stand and wait for O'Connor to walk over next to me and for the sound crew to place the microphones, I was a nervous wreck.
Then it happened: Adrenaline kicked in, and I nailed every note in tune and on time. Of course O'Connor did too. The entire audience leapt to their feet, whistling, yelling and clapping.
It was exciting to share the stage with a virtuoso, and pleasant to discover that he respected us in our status as community musicians. Not all world-class artists share this trait. Not all have a sense of humor, either: At one point, knowing that the audience was a mix of classical and country fans, he instructed the classical fans to "applaud loudly between movements" (a breach of classical etiquette), and the country fans to "hold your applause until the end of the piece" (not the usual behavior expected of a country audience).
At the post-concert reception, when I thanked O'Connor for programming "Limerock," he replied, "I knew they would like it, but that was over the top."
Read more about Mark O'Connor's performance with the Wyoming Symphony Orchestra in Rebecca Hein's article, Quality vs. Community: The First Century of the Wyoming Symphony Orchestra. And click here to watch a video of O'Connor playing "Limerock—" with Yo-Yo Ma on the cello.