The Meaning of Lester Hunt
March 8, 2023
During a stormy session, the Wyoming Legislature last month found itself debating the implications of one of the most telling events in our state's history: the life and tragic death of Lester Hunt. Longtime Sen. Cale Case, Republican of Lander, introduced a bill calling on legislators to recognize Hunt as a "consummate model to public servants for his distinguished career, his commendable civility and courage and his service" to the state and nation. The bill met some opposition.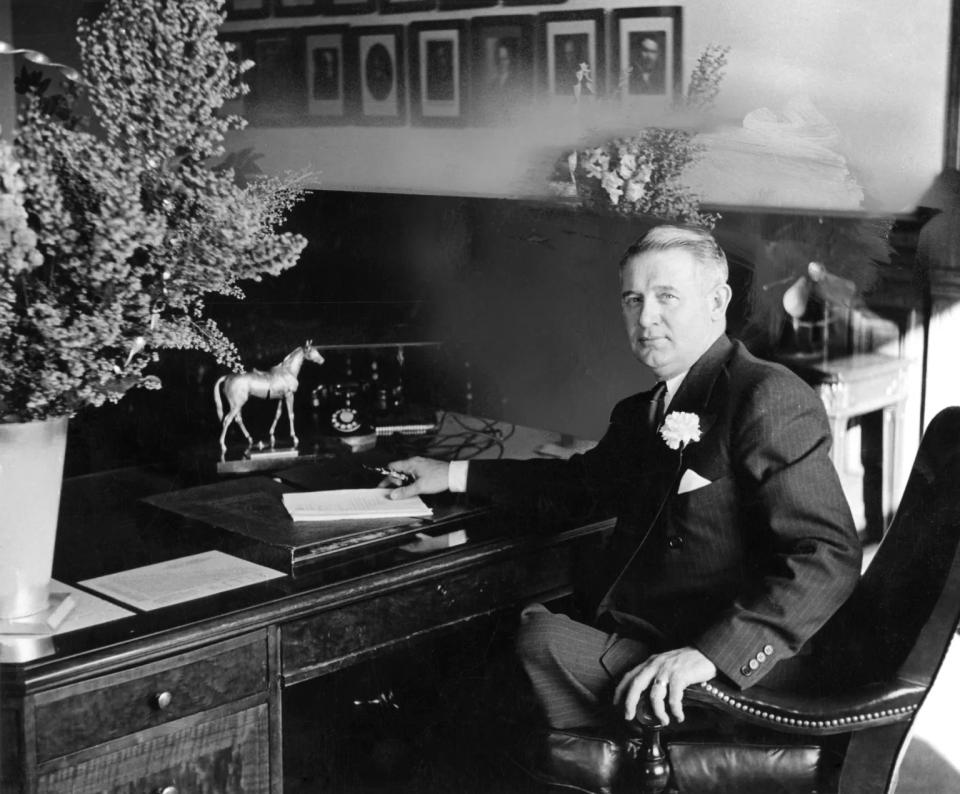 Hunt, a popular Democrat, won six elections in his lifetime—once to the legislature, twice as secretary of state, twice as governor and finally to the U.S. Senate, in 1948.
Hunt and his wife, Nathelle, arrived in Washington, as historian Rodger McDaniel writes, just as "Sen. Joe McCarthy was becoming McCarthyism." McCarthy, the charismatic, demagogic senator from Wisconsin, was spreading fear and ruining careers with his claims that the U.S. government was riddled with secret Communists. Those pressures fell hard on Lester Hunt following his son Buddy's June 1953 arrest and conviction in Washington for soliciting homosexual sex from an undercover policeman.
The arrest was little known in Wyoming, but 1954 was an election year. Working closely with McCarthy, two other senators told Hunt they would send Wyoming voters tens of thousands of flyers about Buddy's arrest if Hunt ran for re-election. The Senate was evenly split. Hunt's resignation and replacement by Wyoming's Republican governor would give the Republicans a 49-47 majority. It was pure blackmail. On a Saturday morning in June, at his desk in the Senate Office Building in Washington, Hunt took his own life.
For three more decades the circumstances of his death remained secret. Only the family and a few insiders knew about it; Nathelle Hunt insisted on the secrecy, as the taboos against any discussions of homosexuality, and suicide, were still so strong. When University of Wyoming professor T.A. Larson was getting ready to publish his landmark History of Wyoming in 1966, he showed a draft to Nathelle that told what had happened. She hired a high-profile lawyer and threatened to sue. Larson's book says only "On June 19, 1954, Senator Lester C. Hunt, overwhelmed by personal and political problems, committed suicide." The truth was not generally known until 1983, when scholar Rick Ewig, later president of the Wyoming State Historical Society, published an article in Annals of Wyoming. By then Nathelle had died. Ewig interviewed Buddy Hunt for the piece.
We caught up this week with Sen. Case to ask him how his bill had fared. It did well in the Senate, passing out of committee with a 5-0 vote and out of the full Senate with a vote of 20-10. On the House side, it came out of committee with a 6-3 majority. But that's as far as it got.
"I wanted everything [in the bill] to be resoundingly truthful but yet maintain those dramatic lessons from those days," Case said this week of the resolution's many whereases and now therefores. Besides praising Hunt for his wisdom and competence, the bill commits Wyoming legislators "to do all they can to prevent suicide and to be diligent in battling against injustices, inequities, discriminative conditions and intolerant practices that can lead to suicide."
Case said he was surprised at the opposition, especially at some lawmakers' apparent feeling that the text didn't give enough space to what they called "both sides" of the question. Of McCarthy Case said, "If there was anything clear in the history, it was that he was a bad actor. You know, I'm a Christian, and I'm sure he had some redeeming qualities. But they didn't show up in the history."
The bill finally died after it failed to come up for initial consideration on the House floor before a deadline. "I think clearly this would have passed if it had the chance," Case said.
"I had lots of people say they never knew the story about Lester Hunt," he added. We agree that the story of Lester Hunt is worth thinking hard about for what it implies about life, death, politics and Wyoming. The legislative session ended March 5, but these questions will linger—as good questions do. Click here for the text of the bill, click here for more detailed reporting on the debate and see the link below for Rodger McDaniel's compelling bio of Lester Hunt on WyoHistory.org.