The Powder River Basin: A Natural History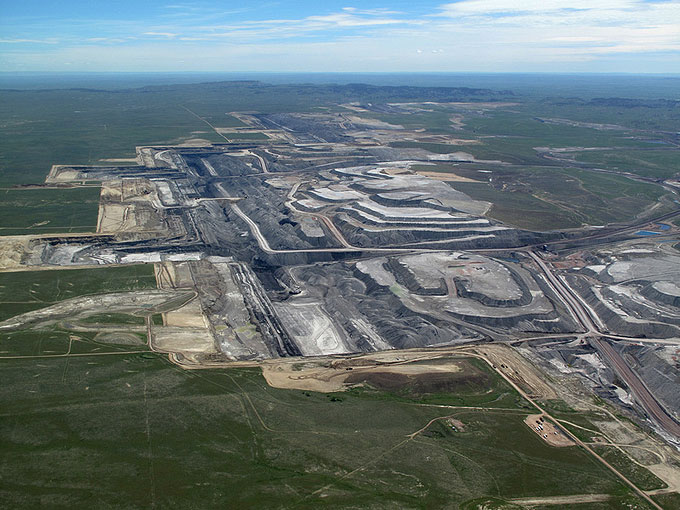 Meanwhile, in 1878, Cantonment Reno, an army supply base at the Bozeman Trail crossing of the Powder River, had been renamed Fort McKinney and moved to a site on Clear Creek officially opening the Powder River country to white settlers. The town of Buffalo soon sprang up near the fort.
By 1883, only about 100 bison remained on the northern plains and 200 more in Yellowstone National Park. Cattle were trailed up from the Gulf of Mexico to fatten on the Powder River grass. Cowboys poured into the Powder River country to work at the 20-some established cattle companies worth a cumulative $12 million. In 1885, the Powder River Cattle Company may have owned more than 50,000 cows.
The cattle boom didn't last long. The brutal winter of 1886-1887 killed perhaps 15 percent of the cattle in Wyoming, though some outfits reported losses far higher. A year later, sheep started trailing into the Powder River area, and smaller independent cattle operations started to overrun the big cattle barons.
In 1892, a contingent of 50 "invaders" from Texas and Cheyenne rode into Johnson County and murdered some ranch hands. President Benjamin Harrison authorized the use of U.S. troops stationed at Fort McKinney to settle the infamous incident, known as the Johnson County War. Struthers Burt sympathized with the "big owners," who, he wrote, "were in the same position the Sioux had been fourteen years before.… They were fighting for a magnificent way of living, a generous and heroic and historic method of making your livelihood." More recent historians such as Helena Huntington Smith and John W. Davis have seen the cattle barons as thugs willing to resort to murder when confronted by fast-changing economic and political forces beyond their control.
Meanwhile, settlements in Wyoming like Sheridan, Buffalo and Kaycee sprang up and grew. Dietz, the oldest Sheridan coal camp, opened in 1893. The town of Gillette was founded at the arrival of the Chicago, Burlington & Quincy Railroad in 1891. The railroad reached Sheridan in 1892, which was the terminus until it continued on to Montana in 1894.
Beginning in the 1890s, outlaw gangs used hideouts in the Hole-in-the-Wall area at the south end of the Bighorns, where characters such as Kid Curry, the Sundance Kid, Flat-Nosed George Currie, Tom O'Day and perhaps Butch Cassidy hid between robberies. Cattle rustlers and horse thieves also escaped into the canyons and rough terrain to evade law enforcement. After Kid Curry led a robbery of a Union Pacific train near Wilcox, Wyo., in 1899, U.S. marshals and railroad detectives pursued his gang into the Hole-in-the-Wall country, where friends provided fresh horses and the posse lost the trail.
Northeast Wyoming saw prosperity and growth during the first decade of the 20th century. The Sheridan flourmill was built in 1903. In 1904 the Eaton brothers set up Wyoming's first dude ranch east of Sheridan. Devil's Tower became the first National Monument under designation by President Theodore Roosevelt in 1906. A 1909 revision to the Homestead Act brought dryland farmers to northeast Wyoming by doubling the amount of free land they could claim from the government.
Polo came to the foothills of the Bighorns in the 1890s and flourished there in the early 20th century. In 1898, Scotsman Malcolm Moncreiffe built a polo field and thoroughbred horse-breeding operation in Big Horn. In the 1920s, the Circle V Polo Company in Big Horn created by Goelet Gallatin was the world's best polo operation, according to historian and polo aficionado Sam Morton. Today, the Flying H Polo Club in Big Horn is one of only three in the United States to offer high goal polo, attracting professional teams from all over the world.
The 1920s and 1930s, however, brought economic depression and drought to Wyoming. Cattle numbers declined, railroad workers held strikes and banks closed. In 1922, a scandal over oil leases around Teapot Dome on the south end of the Powder River Basin led to the jailing of U. S. Secretary of Interior Albert Fall and, briefly, of oilman Harry Sinclair.
Even as more oil discoveries were made and coal mines opened up in the Powder River Basin, agriculture remained the main occupation until the 1970s. After World War II, Wyoming enjoyed good times along with the nation's rising prosperity. However, the state's population grew more slowly than the rest of the country, the number of people involved in agriculture declined, and many Wyoming-educated graduates moved out of state.
The Powder River Basin coal boom started in the 1970s. The biggest mine by production volume, Black Thunder, opened in 1977. The company town of Wright sprang up at nearby Reno Junction, beginning with the 108-unit Cottonwood Mobile Home Park. As of 2012 there are 13 operating coalmines in the Powder River Basin in Wyoming. The Union Pacific and the Burlington Northern Santa Fe railroads carry trains full of Powder River Basin coal to power plants from Washington to New York and many states in between, with most volume going to Texas and the Midwest.
Another kind of boom kicked off in the 1990s when energy developers figured out how to extract, transport and market coalbed methane, a form of natural gas in underground coal seams. Wyoming now produces about a fifth of the nation's domestic coalbed methane. More than 20,000 wells were drilled in this area during the 1990s and early 2000s, many on public land, but others on private ranchland where the federal government owns the mineral rights, a contentious situation termed "split estate."
Roads, well pads and other infrastructure have altered the landscape while water released from deep underground to relieve pressure and let the gas escape contaminates freshwater sources due to its salinity. New drilling slowed when natural gas prices dipped around the end of the first decade of the 21st century. Still, Powder River Basin coalbed methane contributes hundreds of millions to county, state and federal taxes each year.
Today, energy development far outpaces ranching as a source of wealth and income in the Powder River Basin, although many residents in this part of the state still practice agriculture and identify with their cattle- and sheep-ranching roots. They still rely on the Powder River grass to fatten their livestock. Professional bareback rider and country music star Chris LeDoux, who died of cancer in 2005 and was inducted into the ProRodeo Hall of Fame in 2006, captured the spirit of the Powder River country in many of his songs.
Where the river winds from the Bighorns up above
And the clear moon shines on the prairie that I love
It's the closest place to heaven that this cowboy's ever known
I'm going back to my Powder River home.
Resources
Brown, Dee. Fort Phil Kearney: An American Saga. New York: Van Rees Press, 1962.
Bureau of Land Management High Plains District Office. "Powder River Basin Coal." Accessed 1/16/12 at: http://www.blm.gov/wy/st/en/programs/energy/Coal_Resources/PRB_Coal.html.
Burt, Struthers. Powder River: Let 'er Buck. The Rivers of America. New York: Rinehart & Company, Inc., 1938.
Carswell, Cally. "Trouble in the Powder River Basin." High Country News. Nov. 07, 2010. Accessed online 01/12/12 at: http://www.hcn.org/issues/42.19/trouble-in-the-prb.
Frison, George C. Prehistoric Hunters of the High Plains. New York: Academic Press, 1978.
Gates, C. C., C. H. Freese, P. Gogan and M. Kotzman, eds. "American Bison: Status Survey and Conservation Guidelines 2010." Gland, Switzerland: International Union for Conservation of Nature. Accessed 12/11/11 at: http://www.iucn.org/?4750.
"James Pierson Beckwourth, 1798-1866," accessed 1/15/12 at http://www.beckwourth.org/Biography/index.html.
Larson, T. A. History of Wyoming. Lincoln: University of Nebraska Press, 1965.
Moulton, Candy. "Wright." Roadside History of Wyoming. Missoula, Mont.: Mountain Press Publishing, 1995, p. 341.
Morton, Sam. "116 Years of Polo in Sheridan County." Flying H Polo Club, Big Horn, Wyo. 2006. Accessed 12/17/11 at: http://www.flyinghpolo.com/history.htm.
U. S. Congress. Senate. "Report of Captain W. F. Raynolds' Expedition to Explore the Headwaters of the Missouri & Yellowstone Rivers." 40th Cong., 2d sess., 1867. S. Doc. 77. Accessed 12/17/11 at: http://freepages.history.rootsweb.ancestry.com/~familyinformation/fpk/raynolds_rpt.html.
Rea, Tom. The Hole in the Wall Ranch: A History. Greybull, Wyo.: Pronghorn Press, 2010, 39-44, 57-140.
U.S. Energy Information Administration. "Table 9. Major U.S. Coal Mines." 2010 Annual Coal Report. Nov. 2011. Accessed 1/16/12 at: http://www.eia.gov/coal/annual/.
Vaughn, J. W. The Reynolds Campaign on Powder River. Norman, Okla.: University of Oklahoma Press, 1961.
Wildlife Conservation Society. "American Bison Society: Bison Timeline." Accessed 12/11/11 at: http://www.americanbisonsocietyonline.org/AboutUs/Timeline/tabid/308/Default.aspx.
Illustrations

About the Author
Emilene Ostlind is a third generation Wyomingite from Big Horn. She holds a master's degree in creative nonfiction writing and environment and natural resources from the University of Wyoming and enjoys writing about landscapes, resources and communities in the West. She is public relations coordinator at UW's Environment and Natural Resources Program. Visit her website at emileneostlind.com.
Subjects
Related Articles