The Jonah Field and Pinedale Anticline: A natural-gas success story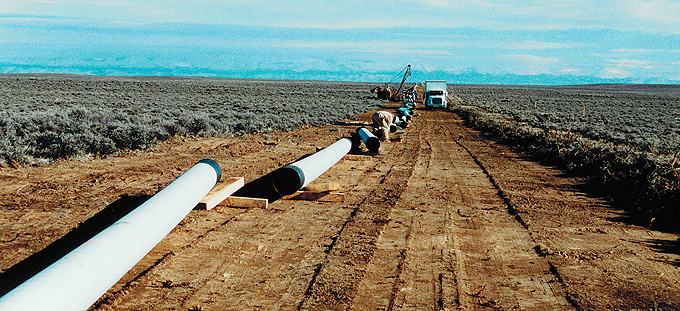 On September 1, 1999, the Jonah Gas Gathering Company, a Wyoming partnership operated and partially owned by McMurry Oil Company, opened a new 50.5-mile, twenty-inch pipeline. The new line would transport the majority of the gas from the Jonah Field to Opal, where it connected with the Williams Field Services gas process facility. From Opal, the gas was marketed into three different pipelines: Kern River, Northwest, and Colorado Interstate Gas. Completion of the Jonah Gas Gathering pipeline increased gathering capacity on the Jonah Field from 175 to 320 million cubic feet per day.
The increased pipeline capacity enabled drilling in the Jonah Field and the Pinedale Anticline to grow at a remarkable pace. In December 1997, the BLM reported 58 wells in place. By December 1999, there were more than 150 wells in both fields. By July 2001, the well count reached 300.
This rapid expansion was permitted by the BLM. In April 1998, the agency formally allowed full-field development. The operators believed at this time they would need 497 wells to fully extract natural gas from the Jonah Field, though the report noted that between 300 and 350 wells was "most probably" the number.
By late 1998, it was clear both estimates were low. The companies began what's called infill drilling — drilling new wells among producing wells in a developed field, to yield more gas faster. Infill drilling would nearly triple the number of well pads that had been considered adequate by operators and the BLM in 1998. By December 2000, the well count had jumped from 497 to 1,347. The total projected lifetime of the field had accordingly dropped to twenty-five years, half of the original estimate.
In June 2000, Alberta Energy Company bought McMurry Oil Company and became a major interest holder in the Jonah Field with a 35 percent interest. In 2002, Alberta Energy changed its name to EnCana, and become North America's top independent natural gas producer.
In November 2001, McMurry Energy, created after the MOC sold its Jonah interest, sold its Pinedale Anticline holdings to Shell, formally known as the Royal Dutch/Shell Group's Energy and Production Company. This was the international company's first foray into Rocky Mountain natural gas in nearly two decades. Other major companies soon followed.
After 2000, drilling in the Jonah Field and Pinedale Anticline continued, spurred by high natural gas prices. In March 2003, the BLM reported that operators had requested permission for an infill drilling program that would add up to 1,250 new wells to replace their earlier request for 850 new pads. Surface well spacing would decrease to sixteen acres, or forty pads per square mile. The BLM raised its estimate of surface disturbance for wells and associated infrastructure by more than 40 percent, from 2,927 acres to 4,225 acres.
The Casper Star-Tribune reported in August 2003 that a total of 3,100 wells might ultimately be drilled in the Jonah Field — 1,300 more than had been requested in the March 2003 infill proposal. The recession in 2008 brought a drop in natural gas prices, resulting in a sudden reduction in drilling in the Jonah Field and the Pinedale Anticline. Drilling and production never stopped, but as of early 2011 was continuing at a slower pace. Drilling is likely to pick up again when the price of natural gas returns to a more profitable level.
Impacts
The Jonah Field rediscovery and successful extraction of natural gas initiated by McMurry Oil Company is heralded as one of the most significant natural gas developments in continental North America in the second half of the twentieth century. Jonah represents a turning point because of the enormous amount of production opened up by the new technologies. McMurry Oil Company's technical advances in the early 1990s, coupled with higher gas prices and a quick boom in pipeline capacity, allowed it and other companies to lucratively produce gas from a previously inaccessible source. This success led to McMurry Oil Company's expansion of the nearby Pinedale Anticline field a few years later.
Impacts brought on from drilling in the Jonah Field and Pinedale Anticline were not always welcomed, however, in the small Wyoming communities surrounding the area, notably Boulder, Pinedale, Big Piney, Marbleton, and La Barge, and the bigger towns of Rock Springs and Green River. The boom strained community housing, schools, and such services as law enforcement and health care.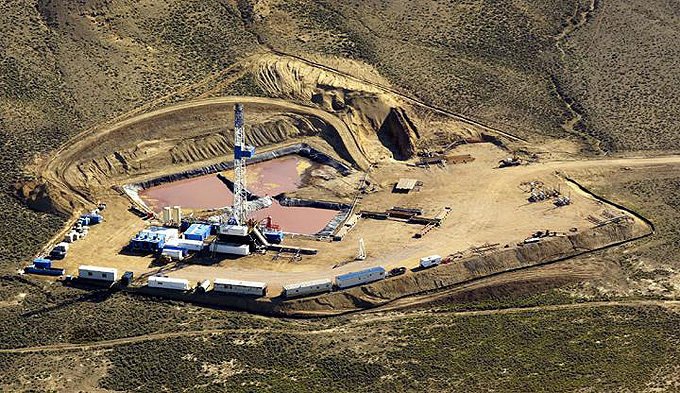 A 2005 study of Pinedale residents conducted by sociologists from the University of Wyoming found that the newcomers brought many new "social impacts," and that longtime residents found it "increasingly commonplace not to recognize someone while going to the bank or buying groceries." Services were harder to get. A quick stop in the store was no longer quick, with long lines at the checkout. It took a longer wait to see a local doctor. For the first time, it was hard to find a parking spot. Perhaps most noticeable was how difficult it became to cross Pine Street, Highway 191, Pinedale's main drag, with the constant traffic of heavily loaded semi trucks.
Concerns were raised, too, about the industry's impact on wildlife, particularly sage grouse, pygmy rabbits, pronghorn antelope, and mule deer. The Sublette mule deer herd, one of the biggest in the state, winters on the Mesa – the northern portion of the Pinedale Anticline. To protect the deer, the BLM restricted drilling during critical winter months until 2008, when a new plan was developed that allows for year-round drilling if the herd population can be maintained. Mule deer numbers have declined significantly, though. A 2010 BLM report shows a decline in 60 percent in deer populations from 2001 to 2009, based on annual estimates. The report blames energy development disturbance. On the Mesa, deer have also lost nearly 2,000 acres of habitat over the past decade, with the majority, 85 percent, of the habitat loss attributed to well pads and the rest to road construction.
Measures have been taken to try to reduce impacts to wildlife and the environment in the Pinedale Anticline. Gas companies are coordinating their drilling efforts into designated areas for year-round development. These Development Areas (DAs) allow the companies to concentrate their activities and timing in specified areas leaving large blocks of contiguous habitat undisturbed and available to big game and their migration corridors and sage grouse habitat. In an effort to reduce the amount of area disturbed, companies have been clustering their wells onto a single pad and then using directional drilling from the pad, resulting in fewer pads and roads needed for drilling activity. By 2010, this method had allowed 100 fewer needed well pads in the Pinedale Anticline Project Area and 70 percent fewer roads to fully develop the field, leading to less habitat disturbance.
Sublette County citizens are concerned about the increased water and air pollution connected with the development. Long-time residents noticed a decline in year-round air quality starting in 2000. Air pollution is now a way of life. The situation became dire in 2008 when the Wyoming Department of Environmental Quality began issuing "Ozone Alerts." Ground-level ozone results from chemical reactions between oxides of nitrogen and volatile organic compounds in the presence of sunlight. Ozone levels get too high when too many engines, from all sources, are pumping dangerous emissions into the atmosphere that are then "cooked" by the sun, often when there is a snow cover to intensify the sunlight. High ozone levels can be particularly dangerous to people with compromised immune systems and respiratory problems. Air quality monitoring is now required, with ongoing steps taking place to alleviate the potentially dangerous situation, though "Ozone Alerts" continue.
At the same time, positive impacts from the successful drilling in the Jonah Field and Pinedale Anticline were immediate and far reaching. Millions of tax dollars have been collected as a result of the natural gas production in Sublette County, which have been used for improved infrastructure and community resources. Thousands of jobs have been created for local residents and for those willing to relocate to the area. Industry has also been very generous in volunteering time and donating money to organizations that serve the community. Industry operators have also worked with the Wyoming Game and Fish Department to implement innovative technologies and operational practices that lessen the effect of natural gas operations on the environment.
Natural gas production continues in 2011, and so too, do many of the problems that came with it. Population growth has slowed somewhat since 2008, however, and the newcomers continue to be served reasonably well by private-sector housing and other services. At the same time, increased tax revenues have allowed local governments to be proactive in building infrastructure, and industry is working to alleviate the problems brought on by the drilling activity. Pipelines, for example, are being built to carry out the condensate now carried by large, dust-raising semi trucks. The BLM and Wyoming Game and Fish monitor the area, and face continued challenges.
Since 2010, additional natural gas fields in Wyoming and throughout the West have been located and development plans are underway. Citizens from Sublette County have been invited to these areas to discuss ways those communities can learn from Pinedale. These could be valuable lessons.
Resources
Primary Sources
Secondary Sources
Lederer, Adam. "Project Wagon Wheel: A Nuclear Plowshare for Wyoming," Readings in Wyoming History: Issues in the History of the Equality State, fourth edition, edited by Phil Roberts. Laramie: Skyline Press, 2004, 214-227.
Noble, Ann Chambers. Hurry McMurry: W.N. "Neil" McMurry, Wyoming Entrepreneur. (Casper, Wyo.: VLM Publishing LLC, 2010.) Includes more on the McMurry Oil Company and on fracking on the Jonah Field and Pinedale Anticline.
__________________. Pinedale, Wyoming: A Centennial History 1904 – 200. (Pinedale, Wyo.: Sublette County Historical Society, 20005.) Includes more on Project Wagon Wheel and the Wagon Wheel Information Committee.
Illustrations
The photo of the Pinedale Anticline from the air, 2009 is courtesy of the field's current operators: Ultra/Shell/QEP.
The photos of the founders of the McMurry Oil Company, Halliburton pumping the frack on the company's first wildcat well, and of the pipeline construction are all courtesy of MOC.
The photo of the working drill rig on the Pinedale Anticline is by Jonathan Selkowitz, from SkyTruth, used by permission.
About the Author
Ann Chambers Noble and her husband, David, live with their children in Cora on their cattle ranch. Ann is also the owner of the historic Chambers House Bed and Breakfast in Pinedale. Ann is a writer and historian, with a B.A. in history from Bowdoin College and a M.A. in history from the University of Utah. She is the author of the award winning Pinedale, Wyoming; A Centennial History, 1904 – 2004 and Hurry McMurry; W. N. "Neil" McMurry, Wyoming Entrepreneur.
Related Articles
Field Trips
Pinedale Anticline and Jonah Field
Note: It is interesting to see the Pinedale Anticline and Jonah Field, and the best way to do so is with a formal tour provided by one of the operating companies working in the area. It's also possible to visit the field independently, though it is advised to do so carefully. There are many unmarked dirt roads, often traveled by heavy trucks. It's easy to get lost and it is not a good idea to try to share these roads with industrial traffic.
Suggested Car Tour: Loop from Pinedale through the Pinedale Anticline, and back.
Travel time for this loop is approximately 1.5 hours with a travel area of almost 60 miles. You will cross the historic Lander Wagon Road of the Oregon Trail and see plenty of natural gas activity, traditional Wyoming ranching, and plenty of Wyoming wildlife. It's well worth the trip.
Directions:
The Pinedale Anticline runs relatively close to Wyoming Highway 191. The northwest corner of the Field is...