Big Piney and Marbleton, Wyoming
Big Piney, the oldest permanent settlement of white people in Sublette County, Wyo., was named by Daniel B. Budd for the Piney Creeks—North, Middle and South—that flow off the east flank of the Wyoming Range to join the Green River. In 1879, Budd and his partner, Hugh McKay, came through the area when they trailed in a thousand head of cattle from Nevada with plans to ship them east to market from Point of Rocks in south-central Wyoming Territory on the Union Pacific Railroad.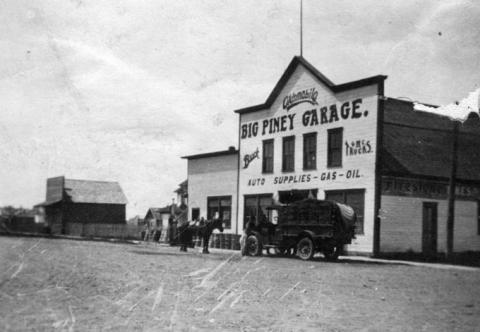 Before they could reach their destination, another 140 miles away, winter set in, and the men were forced to move the livestock to South Piney Creek to wait out the season. When spring came, they discovered the cattle had thrived on the local grass. Budd decided to stay in the area and soon brought his family.
Budd was not the first to bring livestock to the Piney Creek area, however. In 1878, Ed Swan, most recently from Idaho, brought cattle with the PL brand. That same year, Otto Leifer, originally from Virginia, brought five to seven hundred head of cattle branded with the Circle. When these cattlemen arrived, they found Dick Fagan raising horses on North Piney Creek.
During the early years, most Green River Valley cattle grazed on open range. No one cut and stacked hay except a few ranchers who cut grass growing beside the sloughs to feed their horses and milk cows. There were no fences except for a few corrals near the ranch houses.
All that changed, though, in the severe winter of 1889-1890, when most of the cattle starved to death. (This was three years after the disastrous winter of 1886-87, when the cattle business suffered so badly in much of the rest of Wyoming Territory.) In the Green River Valley it was called the "Equalizer Winter;" as the loss from severe weather devastated prosperous and poorer ranchers alike.
Hard lessons
In its wake, most stockmen rebuilt their herds, planning better this time for harsh winters. They grubbed sagebrush by hand, sowed grass seed and ditched the meadows. This allowed them to grow a hay crop for livestock feed. They placed fences around the cut-and-stacked hay so the stock didn't consume it before winter.
As more land was cultivated and fenced, cattlemen pooled their resources. In 1890 they established the Big Piney Roundup Association. Members allowed their herds to graze in one large group, and cooperated on roundups, trail drives and brandings. In 1916 the Upper Green River Cattle and Horse Growers Association was formed and the cattlemen continued to pool their labor.
From 1881 to 1885, Amos Smith had unofficially kept the mail at the Mule Shoe Ranch, which had been located at the mouth of South Piney. Daniel Budd took the post office into his home when a government post office was established in 1886. Mr. Budd was appointed the first Postmaster of "Big Pine," Wyoming.
We do not know whether "Big Pine" was an error, but the second appointment was marked, "Big Piney." Budd's post office moved into a general merchandise store he built to supply the increasing numbers of settlers who were coming to the area. A big room on the top floor of Budd's store was used as the first community hall. Area residents gathered at Budd Hall for dances and other social events for many years.
The first schoolhouse in Big Piney—a log cabin with a dirt roof—opened in 1887. It was replaced in 1902 with a modern schoolhouse on land donated by Budd. The new framed building with clapboard wood siding cost the community between $1,000 and $1,200 to build and furnish. Because weather often made travel difficult, schools were built or moved to be near the ranch whose children attended their classes. Many ranch wives were former schoolteachers. Education has always been a priority in the community.
Two towns side by side
Big Piney was incorporated on July 5, 1913. The town had a school, church, store, hotel, bar, bank, newspaper and telephone service. Big Piney's location, though, was a problem. Drainage was bad and boggy areas made travel difficult, especially in the spring. Building foundations also sometimes became unstable.
Charles Budd, Daniel B. Budd's oldest son, hoped to move the town to higher ground north of the original townsite to alleviate the drainage problem. Charles Budd established Marbleton on the bench in late 1913, but the later town never replaced Big Piney. Named for A. H. Marble of Cheyenne, Marbleton was incorporated in 1914. The two towns are only a mile apart, but every effort to combine the two has failed. The two communities opted to maintain separate town governments, yet shared most every other service.
Key Dates
Big Piney, Wyo., incorporated at the site where the Piney Creeks—North, Middle and South—flow off the east flank of the Wyoming Range to join the Green River.
Date: 1913-07-05
About the Author
Ann Chambers Noble and her husband, David, live with their children in Cora on their cattle ranch. Ann is also the owner of the historic Chambers House Bed and Breakfast in Pinedale. Ann is a writer and historian, with a B.A. in history from Bowdoin College and a M.A. in history from the University of Utah. She is the author of the award winning Pinedale, Wyoming; A Centennial History, 1904 – 2004 and Hurry McMurry; W. N. "Neil" McMurry, Wyoming Entrepreneur.
Subjects
Additional Information
Field Trips
Green River Valley Museum
Green River Valley Museum, 206 North Front St. in Big Piney, Wyo., is open June 1- October 15, and free to the public. The Green River Valley Museum aims to perpetuate and preserve the history and culture of the Green River Valley. Exhibits as of 2012 include a restored chuckwagon, schoolroom and post office.